By Amy Falksofske
Written for Brides & Weddings Magazine
You're engaged! Congratulations! You might be overwhelmed with all the planning that lies ahead, but you don't need to be. Catering By Uptown is here to take care of all the details for you. They have all-inclusive packages that they can tailor to your budget and your desires for your perfect day. Whether you want to get married in Maryland, Virginia or DC, Catering by Uptown has a venue to suit your tastes and budget.
All-Inclusive Package
Catering By Uptown's all-inclusive package has everything. They take care of brides and grooms from the beginning of the planning stage until the last guest leaves the reception.
Once you book, you get your own wedding planner that will walk you through the steps to plan your wedding. They will also set you up with your own planning website where you can choose your menu, arrange your seating, and make and keep track of your payments. You can also make appointments with your planner to come in and do a tasting or talk about your décor.
The all-inclusive package includes your ceremony, cocktail hour and a four-and-a-half-hour reception. Your wedding planner will direct the ceremony and be responsible for ushering everyone in and out of your cocktail hour, your reception and your photos.
There's a full closet of linens and china to choose from. Where most venues offer limited décor options, Catering By Uptown has a full selection of colors of linens, china and décor. They can make beautiful centerpieces for your tables if flowers are not in the budget.
An open bar can be included with the best of the best beer, wine and liquor. You can customize the bar depending on your needs, desires, or budget.
Special lighting is offered as well, whether you want different-colored lights or a single color. All venues are fully wired.
After the bride and the bridal party gets their hair and makeup done, they can arrive at the venue as much as an hour and a half before the ceremony to get ready. Each venue has a special space just for that purpose.
Catering By Uptown maintains a list of vendors for all of your other needs such as florists, DJs, and photographers.
Whether you want a small wedding with 50 people, a little bit larger wedding with 150 people, or a large wedding with 300 people, Catering By Uptown can work with you to meet your budget needs and to help you have the wedding you want. They also have space available mid-week and during the day for smaller budgets.
Virginia, Maryland and Washington, D.C. Venues to Choose From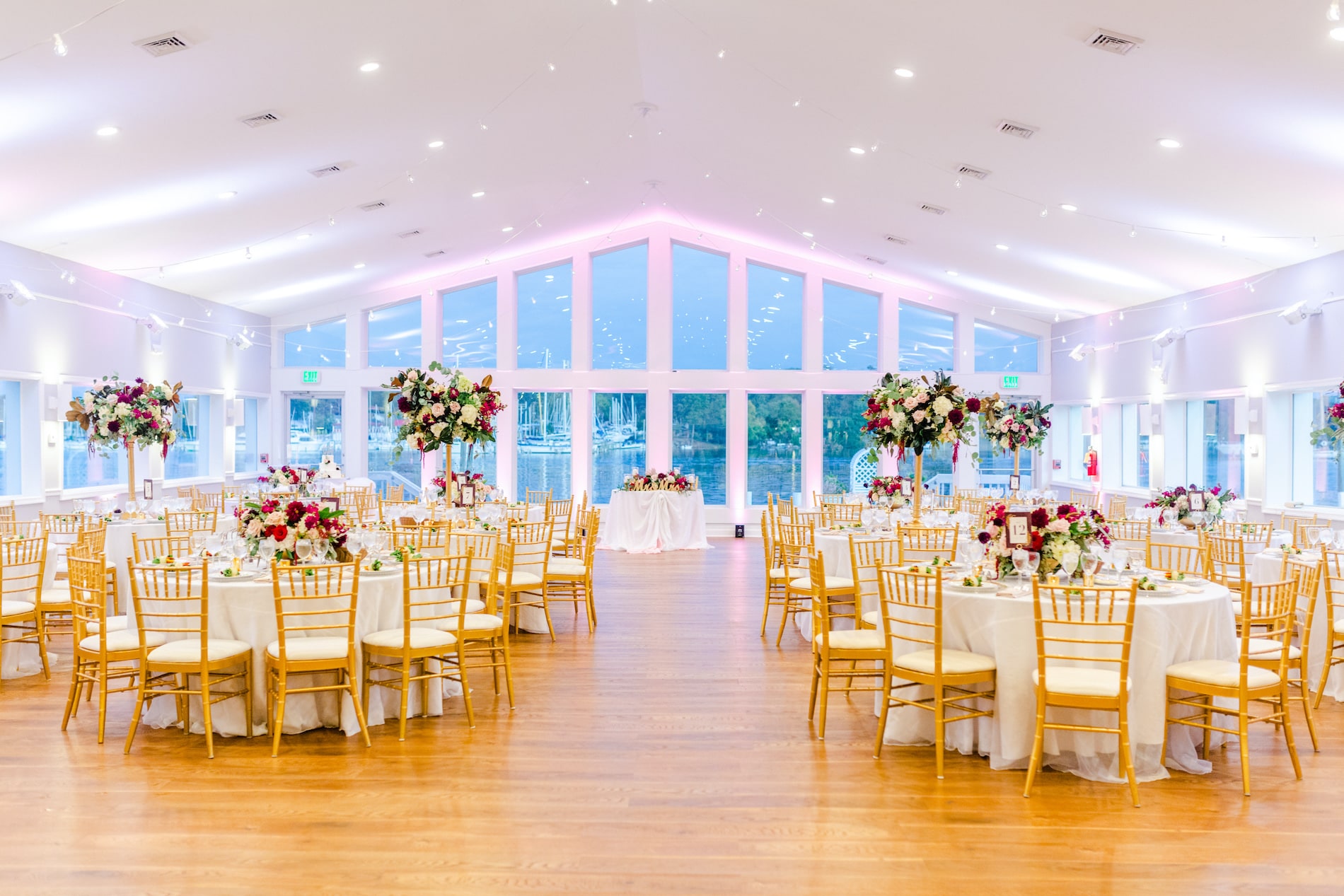 Catering By Uptown is the parent company to multiple stunning venues. Located in Maryland, Celebrations at the Bay, a beautiful Chesapeake Bay waterfront venue, Anchor Inn, a private waterfront venue on the Chesapeake Bay, Bayfront Club, also a Chesapeake Bay waterfront venue, The Villa, which has indoor and tented ballrooms, and Town & Country.
In Virginia, Catering By Uptown is used almost exclusively as the caterer for nine venues, including historic sites, a waterfront site and a vineyard.
In Washington, D.C., you can choose from Decatur House, an elegant, historic house, Carnegie Institute, a historic, iconic wedding venue and special event site, or St. Francis Hall next to the Franciscan Monastery.
Taking Precautions in Light of COVID
Catering By Uptown is following all COVID guidelines including guidelines put forth by Virginia, Maryland and D.C. In addition, they want you to feel comfortable knowing that everyone in attendance at your wedding stays healthy and happy.
During this time, they are offering virtual tours of each of their venues, and you can schedule those right on the page for the venue that you are interested in by visiting the Catering by Uptown website and clicking on "venues."
If you are interested in having Catering By Uptown plan your wedding, you can fill out a contact form. You can also email info@cateringbyuptown.com or call 301.572.7744.