Are you looking for a way to incorporate your culture into your wedding? Let's talk cuisine!
At Catering by Uptown, we offer custom menus so that you can design your very own catering package and serve up your favorite dishes to your loved ones. Celebrate your day, your way — check out just a few of our diverse catering packages below!
Bubbly Brunch…
Pop the champagne (or the sparkling cider!) and craft your very own mimosa bar for your joyous occasion! Your guests can choose their preferred juice and garnish their bubbly with a variety of fruits to kick things off.
Check out some of our favorite brunch options: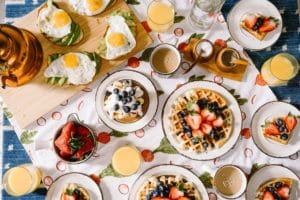 Yogurt parfait bar
Build-your-own waffles, french toast, and crepes stations
Chef-attended stations for Eggs Benedict, Omelets, and more!
Maple-glazed salmon
Sausage, bacon, and home-fried potatoes (of course!)
Hearty Italian…
Hoping to serve up a little taste of Italy? From gourmet entrees to delicious pasta dinners, we've got you covered. Slurp your way through our signature Italian dishes which we can even pair with our house wines:
Antipasto display                                                                                              
Bruschetta bites with roasted peppers and mozzarella
Golden-fried lobster ravioli bites

Chicken Marsala
Seafood pasta
Southern Comfort…
There's nothing like an ice cold glass of Southern-style sweet tea, garnished with mint and raspberries, to welcome your guests to the party! Charm your guests with a few of our southern classics:
Country biscuit station
Mac & Cheese martini bar
Chicken & Waffles
Shrimp and grits
…and don't forget the cornbread!

Fiery Indian…
Treat your tastebuds to the dynamic cuisine of India! Spice up your special day with some of our favorites:
Veggie samosas
Chicken kabobs with peppers and pineapple
Lamb Vindaloo
Tandoori Chicken
Chicken Tikka Masala
Caribbean Charm…
Are you dreaming of bright beaches, sunny days and sandy toes? So are we! Take your big day to the next level and transport your guests to a tropical paradise by infusing Caribbean cuisine into your diverse menu.
Jerk chicken plantain sandwiches 
Coconut shrimp with spicy mango sauce
Spicy Caribbean fried fish balls
Sugarcane shrimp
Stamp & Go
XO, Your Planners
Maddy & Cassidy